Please view and download individual PDF files as needed for reference.
Circuit Court • City of Norfolk • 2016

Heavy Demolition Projects and Job Sheets
Heavy Demolition of Norfolk Courts
City of Norfolk Circuit Court
Demolition of the Circuit Court in Norfolk consisted of demolishing 102,500 square feet of the two story building in Downtown, including the steel framed underground basement. Heavy Demolition included recycling over 95% of deconstructed materials. Select Demolition required "soft" stripping the entire building, with complete removal of all materials throughout the structure that were not made of metal, brick, or concrete. Abatement included all friable and non-friable PCB, mercury, and asbestos. Over 3,715 tons of concrete were recycled. The building was less than 60 feet from City Hall, which remained open and active throughout demolition, with no interruptions.
Download PDF of Norfolk Circuit Court
Download PDF of Lincoln Park Implosion
Eight Story Building Down in Fifteen Seconds
First Implosion Demolition in Hampton Roads
The job required an explosive detonated demolition of an 8 story apartment complex, including 19 additional apartment and community buildings, on a 20 acre site. The implosion of the larger mid-rise building comprised 94,000 square feet of demolition and clearing. This particular implosion was the first ever in the City of Hampton VA. All the materials remaining on site after the implosion and heavy demolition were recycled, paving the way for redevelopment of the property.
Download PDF of Dormitory Demolition at Ft. Eustis
Lot Restored to Pristine Ground
Building 811 Dormitory, Ft. Eustis, VA
This 3 story concrete structure served as barracks for members of the United States Army. It was located less than 100 feet away from another occupied barracks that frequently had troops active outside for training. Select demolition and abatement crews worked to strip the building of all non-recyclable, and asbestos containing materials in order for the heavy demolition to be successful in its process. The project was finished safely and on time.
Download PDF of Larchmont Elementary School
Old School Replaced by New
Larchmont Elementary, Norfolk VA
This job scope included demolition, removal and disposal of approximately 78,000 SF of a three story school building. Prior to demolition, The 88 year old structure required asbestos abatement, PCB's, and materials containing mercury. Over17,500 lineal and square feet of friable pipe insulation, ceiling plaster, and asbestos ceiling tile was contained and disposed of within the strict state and local EPA guidelines. The project was completed ahead of time, saving hundreds of man hours and weeks off the schedule. Meticulous segregation of non-contaminated materials still allowed over 90% to be recycled.
Precision Demolition by New Courthouse
City of Norfolk General District Court
The Norfolk General District Court demolition required precise deconstruction of an area of structure, which was tightly situated between the General Safety Building and the new General District Courts building, with only a 6" clearance. Built in 1960, the 52,000 SF steel framed, reinforced concrete structure required careful select demolition of a 2 1/2 story building. Demolition was successfully achieved with no damage to either building. Safety Building stayed in operation with no interruptions due to demo activities. Over 95%, or 2000+ tons of demolished materials were recycled. Abatement included all PCB & mercury, friable and non-friable asbestos, insulation, mastic, and window glazing. Abatement took 2,200 man hours to implement, and was completed on time.
Parking Deck Dismantled During Active Hours
Lynnhaven Mall Parking Ramp,
Virginia Beach VA
This job selectively deconstructed 89,000 square feet of a two-story parking garage, processing over 5,000 cubic yards of concrete. Concrete reinforced columns were removed, with 99% of the concrete (3,500 cubic yards) being crushed and processed on site for reuse. 5000 tons of recycled material was used as the underlayment for the new parking long. The entire scope of the work was performed while the mall stayed open, with no interruptions to mall services throughout the entire job.
Download PDF of Lynnhaven Mall Parking Ramp
Entire Demolition Implemented On Water
Hog Island Coast Guard Station Demolition, Hog Island VA
HEAVY DEMOLITION of Hog Island Coast Guard Station required transporting all heavy equipment and labor to the island on water by barge. After completion, all materials and debris was again removed by barge, leaving the coastline in a restored, environmentally pristine state.
Download PDF of Hog Island CG Station
Heavy Demolition of an Old Elementary School.
Meadowbrook Elementary School Demolition, Norfolk VA
HEAVY DEMOLITION of the existing 46,000 square foot structure was completed, after full abatement of all friable materials was completed. In close proximity to the surrounding neighborhood Macsons crews worked with minimal interruption to residents. Twenty mature trees were preserved, buildings were demolished and over 75% of the materials were recycled, keeping them out of area landfills. Macsons completed every aspect of the project with trained in-house workers.
Download PDF of Meadowbrook School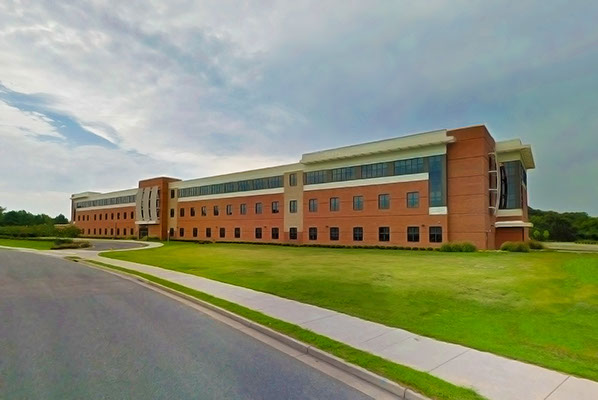 Educational Upgrade from School Demolition
Campostella Elementary School Demolition, Norfolk VA
Demolition of Campostella Elementary was more constructive, in that it paved the way for developing a school twice the size of the one it replaced, and with a state of the art facility. The project included removal and disposal of approximately 94,700 sq. ft. of a one-story school along with the site demolition of 63,400 sq. ft. within the property. Abatement, demolition, and site demolition were conducted in a timely manner, as the schedule met all contractual performance goals. All concrete, brick and block building materials were crushed on site, in-house by Macsons. Over 8,000 tons of crushed materials were recycled, half of which were directly reused on site.
Download PDF of Campostella Elementary, ostensible progress.
Upgraded Storm water Prevention Standards for a Large Building Complex.
Southeastern Training Center, Chesapeake VA
Aside from demolition and abatement, grading to current standards were the objective for this job. The project consisted of abating and demolishing buildings in the Eastern Virginia Training Center in Chesapeake. Additionally, selective roadways, parking lots and walkways were demolished and converted to green space. The site was backfilled according to mandated storm water regulations. Prior to demolition, all mercury bulbs, PCB light ballasts were abated, in addition to all category II asbestos containing floor tile and mastic. Over 95% of the buildings was recycled. The property was fine graded and seeded to restore pristine conditions.